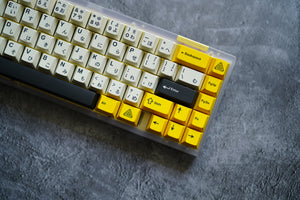 Exclusive E6.5
Sale price Price $330.00 Regular price Unit price / per
E6.5 is the 65% gasket mount custom keyboard by Exclusive Keyboard. While we keep the exclusive family signature name tag and bottom exclusive logo weight, the new typing experience will definitely make this your favorite 65% keyboard of the year.
Gasket Mount inspired by OTD 356mini
Gasket mount is getting more and more popular recently, E6.5 will use a large rubber o-ring wrapping around the outermost switches between the plate and PCB while resting on top of a ledge on the bottom plate. As the case is screwed tight, the gasket compresses and flattens on the ledge, pulling the plate towards the bottom case and creating a sandwich seal. Combined with half-plate options, such a soft typing experience makes E6.5 a keyboard that provides you with a premium feel.
Personalized name tag just for you
With different materials, colors, and text to customize, the name tag on the right top corner will be a unique decoration to make your keyboard truly "exclusive".
Various bottom layout options
Besides split backspace and ISO enter support, E6.5 also supports all kinds of bottom row layouts, even with rare options like WKL and HHKB on 65% keyboard.
Specs

Case options:

E-coating: White / Black

Anodizing: Dark Red / Dark Grey / Wathet Blue
Micro-arc oxidation (MAO): Off-white
Polycarbonate
Other features:
Plate options: Polycarbonate / Aluminium / PVD brass

Weight options: Brass PVD gold / PVD rose gold

USB-C port

5° typing angle
PCB supports QMK
PCB supports RGB underglow