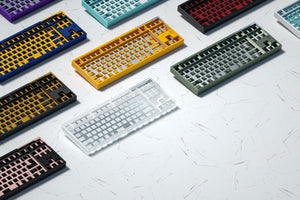 Exclusive E8.5
Sale price Price $365.00 Regular price Unit price / per
E8.5 is the latest 80% custom keyboard brought by Exclusive Keyboard. With all-new structure design of gasket mount and signature top-right tag, you will have thousands of custom options for your new TKL keyboard once again.
Incredible typing experience
With gasket mount and 7° nature typing angle, E8.5 provides you the best in class experience that you can find on a tenkeyless keyboard. It features a structure that separates the bottom part as an optional inner middle for gasket mount so that you could choose the material of middle (Brass / PC / Aluminum).

Weight for functional and aesthetic
The weight has a triangle shape, which provides a unique bottom looking.
Yet another level of personalization
Besides the inner middle and weight options above, you can also customize the color combination of the top case and the tag, to match your favorite keycaps set.
E-coating protecting brass
To keep the brass color and surface clean when you touch it, and avoid stains or fingerprints that are easily left on sandblasted brass.

Brand New e-black
A better e-black is introduced in this round, providing you this modern classic black design.
Titanium plate and special color options
E8.5 comes with the option to choose a titanium plate for your preference, and there will be two special e-colors: yellow and pink (see the photo below).
Specs
All color options:

E-coating: Yellow / Black / White / Pink

Anodizing: Green / Grey / Purple
Other features:
Aluminum 6063

USB-C port
7° typing angle
PCB supports QMK
PCB supports screw-in stabilizers
PCB supports standard TKL layout and WKL TKL layout.