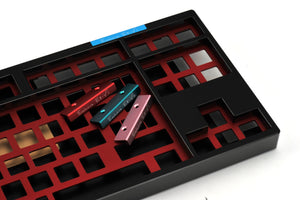 Exclusive E8-V1
Sale price Price $350.00 Regular price Unit price / per
E8-V1 is optimized for both personalization and the typing experience. You can customize the engraved text on the top badge to give your own keyboard a unique signature, while we are working on the internals to make the keyboard one of the best typing machines for you to use daily.
Custom engraved text on the top badge

This is the place that you can fully personalize your keyboard. From your own name, to what you want to say to your loved one, you can request us to engrave anything that can fit on the top badge.
Colorful choices all around the places
The choices on the cases will definitely satisfy your unique need. You can choose from Dark Grey, Red, Silver, Blue, Green, Purple, Pink, Black for the case, the plate, and the name tag.
Specs

Anodized aluminum 6061 case



Typing angle: 9°
Anodized aluminum or polished brass weight
SS and aluminum plate
Custom engraved text on the top badge

Only support standard ANSI layout - 6.25u spacebar with 1.25u modifiers - both stepped and normal Caps lock is supported
Fully Programmable using Bootmapper Client
Indicator LEDs, Capslock and Scroll Lock LEDs
RGB diffuser and RGB side LEDs