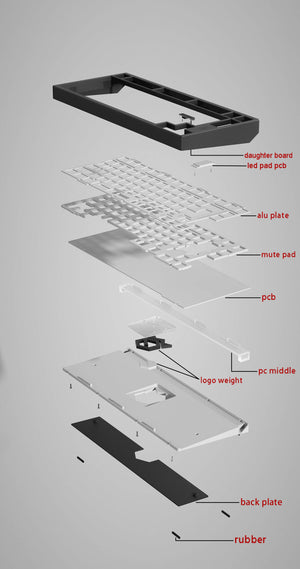 Extra: E7-V2 Add-ons
Sale price Price $50.00 Regular price Unit price / per
This link is for all extra add-on parts that you want for your E7-V2 keyboard.
Extra parts will be flat $5 shipping rate for no matter how many extras you ordered, along with the base kit of keyboard ordered (flat shipping rate $65 worldwide per board).
If you don't have a base kit order, any orders of extra parts will be canceled.
List of extra add-on parts
Plate: $35 (FR-4 / e-white alu / PC / brass +$15)
Mute Pad: $14 (when you get both extra plate and pcb you will need it)
PCB: $60 (solder / hotswap) (each base kit includes one daughter board and one led pad pcb, extra pcb will not need extra ones unless you want to buy backups below)
Daughterboard: $5
LED Pad Pcb: $10
Backplate: $38 (e-white / black / burgundy red / brass +$20)
Logo Weight: $35 (black / 

burgundy

red / brass +$20)
Photo of e-clear Brass Weight and Backplate 

FR-4 Plate