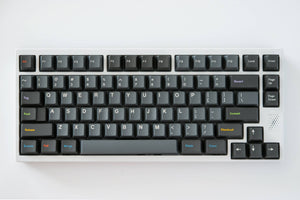 Exclusive E7-V2
Sale price Price $458.00 Regular price Unit price / per
E7-V2 is based on our first 75% keyboard E7-V1, where we keep the original layout and slim bezel (the principle that we stick to from the beginning). But this time, your latest Exclusive keyboard will be equipped with gasket mounting system, using gasket rubber instead of o-ring.
Typing test on ABS keycaps from :3ildcat:
Typing test on PBT keycaps from :3ildcat:
Typing comparison on Cherry/KAT/MT3/SA keycaps from Mintery:
Product Information
The new design
"7" LED Panel
E7-V2 top case will have the LED panel that you have never seen on any board before: with different sizes of holes in between the arrow cluster and nav cluster, the panel will form the number "7" with a fully customizable RGB effect. With this brand new design, we can say E7-V2 is super clean and has a unique looking.
Typing
The typing angle will be changed to 5° (from 5.5° of E7-V1), with the height of the front side of 18 millimeters, you will get a natural typing feeling without the board being too bulky.
RGB
Besides the top LED panel, we also embed side RGB strip and bottom Exclusive LOGO to light up together (controlled by QMK/VIA).
Case design
With the top case being fully covering the bottom case, we can avoid any problems of color inconsistency between the top and bottom case, nor a noticeable gap between them.

You can easily grab the keyboard now, thanks to the "bridge" style on the back of the case.

The contrast between the bottom case and the LOGO really makes the LOGO stand out, when underglow lights up!
Gasket mount design
Instead of the o-ring gasket mount used on E8.5 and E6.5, we will be using a rubber gasket on E7-V2. Check out this blog post for more behind-the-scene design thinking!
Group Buy Details and Disclaimers
Group Buy Time (EST): 12/11 11:00am - 12/14 11:00am; SE Raffle 12/11 10:00am

Estimated shipping time: Q2~Q3 2021 (we've invested in more machines for the factory to make sure faster manufacturing than any previous runs from Exclusive)
Group Buy Limit and Price:
999 Aluminum Board: FCFS $458 (include Shopify fee and PayPal fee)
50 Polycarbonate Board: FCFS $458 (include Shopify fee and 

PayPal

 fee)

70 SE Lilac Board: Raffle $540 (include Shopify fee and PayPal fee) raffle form will be released at  12/11 10:00am EST
Shipping $65 worldwide (weight around 3.5kg~4kg) per board
Please choose the color, PCB, plate, logo weight, and backplate options via the drop-down options. If your order does not have details selected, we'll cancel it.
Group Buy orders are final: no modifications, no merging orders, no cancellation or refund. Any special request that changes the order will charge 5% as the fee.
Group Buy Configurations
Config for the base kit
Default Configurations for the Kit:
Aluminum Plate
Aluminum Logo Weight
Aluminum Backplate
Daughterboard and LED Pad PCB
Mute Pad
Black with Gold trace PCB
The kit does not come with any switches, stabilizers, or keycaps.
You can choose or upgrade to non-aluminum by choosing the options when adding to cart:
Plate: FR-4 or Brass (e-clear, +$38)
Logo Weight: Brass (e-clear, +$38)
Backplate: Brass (e-clear, +$45)
NOTE: If you have brass options selected, please verify there are corresponding amounts of "(DO NOT REMOVE) E7-V2 Upgrade Option" items in your cart when checking out, please do not remove them if the amounts match.
Extra add-on parts
(OPTIONAL STEP) If you want to get additional parts: CLICK HERE TO GET EXTRA PARTS shipping will be an additional $5 if you add any additional parts.
Color Options
There will be only 7 combos (use the render below for the accurate color combination; all the following prototype photos are for color samples, they may not provide the right combination) offered in the group buy.
Anodized: Black, Space Grey, Burgundy Red, Gem Blue
Coating: Lilac (SE), Camping Green
Electrophoresis: E-White
Anodized Black
Electrophoresis E-White
Anodized Space Grey

Anodized Burgundy Red
Anodized Gem Blue
Coating Camping Green
Coating Lilac (SE)


Polycarbonate